Common Name: Field Crickets
Scientific Name: Gryllus spp.
Class/Order/Family: Insecta/Orthoptera/Gryllidae
Metamorphosis: Simple
Introduction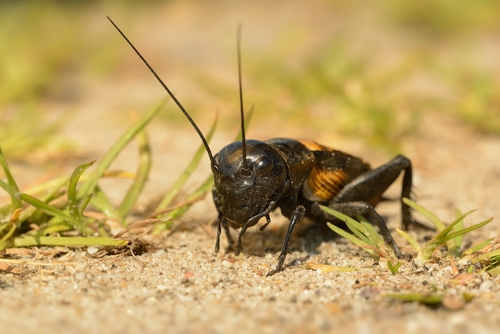 Field crickets can severely damage or destroy field crops and vegetable crops and hence, probably get their common name from this activity. The genus Gryllus is widely distributed throughout the Americas or New World, and consists of about 25 species in the United States.
Recognition
Adults 1/2-1 1/8: (13-30 mm) long. Color typically black but varies to brownish yellow or straw yellow. Antennae threadlike, much longer than body. Wings lay flat on the back. Cerci long, feelerlike. Hind leg tibial spines short, stout, non-movable. Tarsi 3-segmented. Adult female with a long tubelike ovipositor (egg laying structure) located at tip of abdomen, between cerci. Nymphs similar to adults except smaller, and lack wings and an ovipositor (females).
Similar Groups
(1) House crickets (Acheta domesticus) are light yellowish brown with 3 dark crossbands on head.
(2) Cave/camel/stone crickets (Gryllacrididae) with humpbacked appearance, wingless, antennae touch or almost touch at base, hind femora long.
(3) Jerusalem crickets (Stenopelmatidae) large and robust, wingless, hind femora do not extend beyond tip of abdomen.
(4) Mole crickets (Gryllotalpidae) with front legs broad and spade-like, antennae much shorter than body length.
(5) Earwigs (order Dermaptera) with forceps-like cerci.
Biology
Field crickets usually overwinter in the egg stage but depending on the species, may overwinter as mid-to late-instar nymphs. The females usually lay 150-400 eggs which are deposited singly in firm but moist soil. There are typically 8 (males) to 9 (females) instars which require 78-90 days (range 65-102) to mature. There may be 1-3 generations per year.
Habits
Outdoors around buildings, they are typically found in moist situations such as in mulched areas, unweeded plant beds, in and around woodpiles, stones, and debris, etc. Their presence is often indicated by the male's chirping, which for most species occurs during the day and night. These sounds are made by rubbing the front wings together. His "calling song" serves to attract females. They are often attracted in great numbers to electric lights.
Field crickets can destroy field crops such as alfalfa, wheat, oats, and rye, and vegetable crops such as tomatoes, cucumbers, peas, beans, etc. Huge outbreaks occasionally occur in the midwest and south where they sometimes enter towns and cities in great swarms. They also feed on other insects and their own kind. They do not survive indoors for long periods of time and usually die off by winter. However, they may cause damage to fabrics of cotton, wool, linen, silk, synthetics, or leather and fur garments, especially when soiled with perspiration or food.
Control
Cricket control starts outdoors with the reduction or elimination of moist harborage near the structure by mowing lawns, weeding plant beds, removing woodpiles, etc. Since they are attracted to lights, change outdoor lighting to less-attractive yellow bulbs or sodium vapor lamps. Seal possible points of entry such as around windows and doors, holes in masonry, add door sweeps, and screen windows, doors, etc.
Baits are especially effective when applied as a band between the structure and peripheral harborages or indoors. Micro encapsulated or wettable powder formulations are particularly effective in the moist areas that crickets prefer. Mechanical removal with a vacuum works well. Crack and crevice treatment may be required indoors for infestations.