Common Name: Centipede
Scientific Name: Various
Class / Order / Family: Chilopoda/Various
Metamorphosis: Simple
Introduction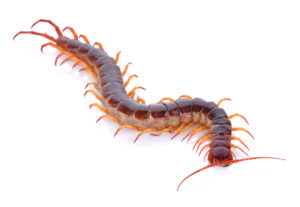 Centipedes are sometimes alled "hundred-leggers" because of their many legs. Even though centipedes are predaceous and therefore beneficial, most customers consider them a nuisance pest. Some species can inflict a painful bite, but it is not lethal. They are widely distributed throughout most of the United States and the world.
Recognition
Adults about 1/8-6″ (4-152 mm) long, elongate, flattened, and wormlike. Color usually yellowish to dark brown, sometimes with darker stripes or markings. With 1 pair antennae, 14-50 segmented. Some with compound eyes, most with a cluster of simple eyes (ocelli) on each side of head or no eyes. Most body segments bear 1 pair of similar legs, except 1st pair behind head modified into clawlike poison jaws and last 2 pairs directed backward and often different in form. Pairs of legs number 15-177, with 1 pair per segment. First instar centipedes usually have 4 pairs of legs. Additional segments and pairs of legs are added with additional molts.
Similar Groups
(1) Millipedes (class Diplopoda) with slightly flattened body have most body segments with 2 pairs of short legs, antennae short, usually 7-segmented. (2) Pillbugs and sowbugs (order Isopoda) with 7 pairs of legs.
Representative Species
1. The usual pest species is the common house centipede Scutigera coleoptrata (linnaeus which is about 1-1 ½ " (25-38 mm) long. Its body is grayish yellow with 3 dorsal longitudinal dark stripes. The antennae and last pair of legs are longer than its body. It has 15 pairs of long legs. The first instar has 4 pairs of legs and more legs are added through the next 5 larval molts (5,7,9,11 and 13 pairs respectively). Then there are 4 additional pre-adult/post-larval instars before adulthood, each with 15 pairs of legs.
2. Our largest centipedes are in the genus Scolopendra and may be as much as 6″/15 cm long. In the southern states, S. heros Girard and S. moritans (Linnaeus) are the larger common species and in the southwestern states, it is S. polymorpha Wood. Their legs and antennae are much shorter than those of the house centipede.
Biology
Centipedes typically overwinter outdoors in protected situations and lay their eggs, usually in or on the soil, during the summer. Females of Scutigera have been observed to produce 35 eggs over a period of days. The common Scutigera may live for more than a year, other species live as long as 5-6 years. All centipedes have poison jaws with which they inject venom to kill their prey. If handles roughly. Some of the larger species can break the human skin, resulting in a bite which causes some pain and swelling, something like a bee sting. However, the large Scolopendra can inflict a very painful bite and should be handled with great care.
Habits
Centipedes are typically found in areas of high moisture such as loose bark, in rotting logs, under stones, trash, piles of leaves and grass clippings, flower-bed mulch, etc., where their typical prey is found. Most centipedes are nocturnal or active at night. They occasionally invade structures, especially S. coleoptrata, where they survive on flies, spiders, etc. Although they may be found anywhere in the house, the usual places are damp basements, bathrooms, damp closets, and potted plants. Centipedes are primarily carnivorous and obtain most of their moisture needs from their prey. Some species will sometimes feed on plant tissues, causing injury.
Control
The key to centipede control is to reduce or eliminate moist areas and harborage. For example, remove accumulations of leaves and grass clippings, logs, stones and rocks, store firewood, etc. up off the ground, provide adequate ventilation in crawl spaces, etc. Indoors, centipedes are easily removed with a vacuum. Application of appropriately labeled residuals can be made to building foundation walls, perimeter flower and/or ornamental plant beds, unfinished basements, and crawl spaces. Wettable powder and micro encapsulate formulations are best. Control of the small arthropods upon which centipedes feed helps make building area less attractive to them.