Common Name: Firebrat, Bristletail
Scientific Name: Thermobia spp.
Class/Order/Family: Insecta/Thysanura/Lepismatidae
Metamorphosis: No Metamorphosis
Introduction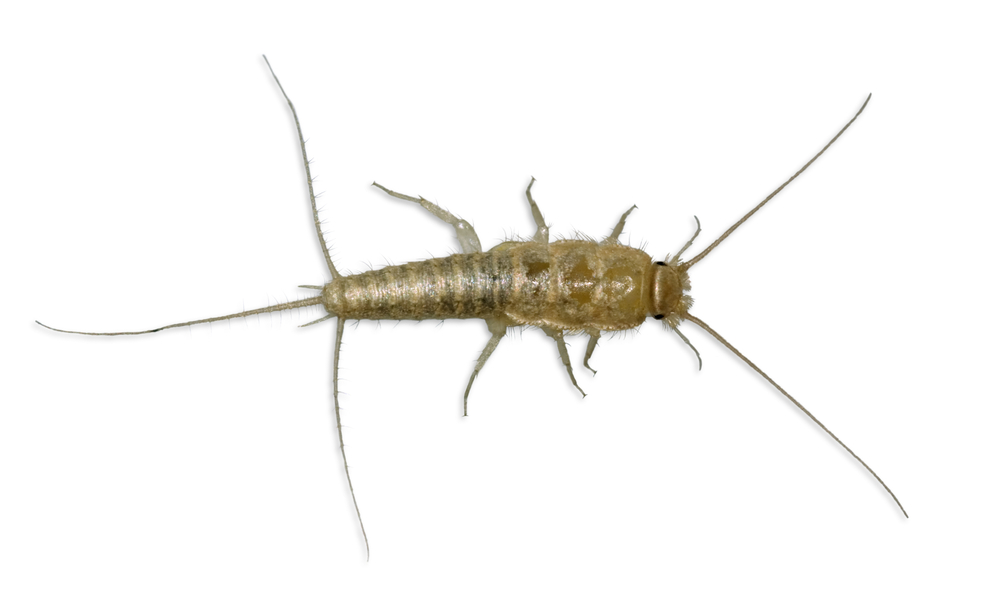 All members of the order Thysanura have a teardrop/carrot/fishshaped body and get the common name of bristletail because of their 3 long, bristlelike or taillike appendages on the posterior/rear end of their body. Firebrat is the common name for those species which prefer areas of high temperature, 90F (32.2C) and above. Firebrats are found throughout the United States and the world.
Recognition
Adult body length, not including tails, about 1/2″ (12-13mm) long. Wingless with flattened body. Shape teardrop/carrot/fishlike, tapering from head to rear, and generally covered with scales. Color uniformly grayish or grayish with numerous dark markings. Antennae long, threadlike. Posterior end of abdomen with 3 long, bristlelike appendages (2 cerci, 1 median caudal filament). In addition, compound eyes small, widely separated; ocelli absent; coxae lack styli (fingerlike processes); tarsi 3 or 4 segmented; some abdominal segments with a pair of styli; abdominal sternites (underside of segment) with median setal combs (tufts of hairs): abdominal tergites (upper side of segment) lack outer dorsal setal combs, and last abdominal tergite wider than long. Immature similar to adults in appearance, except for size. Scales appear with 3rd or 4th molt.
Similar Groups
(1) Silverfish (order Thysanura) with silvery/metallic sheen or 4 dark lines extending lengthwise. (2) Jumping bristletails (order Microcoryphia) have large compound eyes which touch each other, middle and hind coxae usually bear styli (fingerlike processes), jump when disturbed. (3) Diplurans (order Diplura) have only 2 appendages (cerci) at end of abdomen, body without scales lack compound eyes, tarsi 1-segmented. (4) Springtails (order Collembola) lack 3 abdominal appendages/tails but usually have a forked appendage at end of abdomen and styli on abdominal segments.
Damages
Feeding marks are irregular whether they are holes, notches along an edge, or surface etchings. Yellow stains, scales, and/or feces may be seen on infested materials.
Representative Species
1. Firebrat, Thermobia domestica (Packard). Grayish with numerous dark markings, giving a mottled gray appearance; setal combs (tufts of hair) present on top of abdomen and median setal combs present on underside; adult length about ½ (12-13 mm); throughout the United States. 2. Thermobia campbelli (Barnhart). Uniformly grayish but otherwise similar to T. domestica; known from Ohio and Pennsylvania.
Biology
The firebrat (T. Domestica) female lays about 1-3 batches of eggs (average 50 eggs per batch), depositing them in cracks. Favorable conditions are 90-106F (32-41C), with 99F (37C) and 76-85% RH optimal for egg incubation. Developmental time (egg to adult) for females is about 2-4 months under favorable conditions. They live from 1-2.5 years when kept at 90-98F (32-37C), and may pass through 45-60 molts. Injured appendages are regenerated.
Habits
Firebrats prefer areas of high humidity, but temperature is the critical factor. They are typically found in areas where the temperature is 90F and above. Such places include boiler rooms, bakeries, hot attics, steam tunnels, around ovens, furnaces, fireplaces, hot-water heaters and pipes, etc., with breeding areas possibly in adjacent wall voids, subflooring, etc. They are fast runners, prefer the dark, hide during the day, and prefer to hide or nest in tight cracks or crevices. Firebrats feed on both carbohydrates and proteins, attacking such things as rolled oats, dried beef, bond paper, linen, cotton, silk, finished only of rayon, viscose rayon carpets, etc.
Control
The key control is identification, a thorough inspection, selection of an appropriate pesticide and formulation, and a thorough application. Many infestations are very localized with heat/temperature being the critical factor, although they also like high humidity. Besides crack-and-crevice treatment, it may also be necessary to treat wall voids, floor and wall moldings, floor and ceiling voids, etc., around high-temperature areas. Area treatment may be required in hot attics. Choose formulations such as inorganic dusts and micro encapsulated pesticides which hold up better under high temperature conditions.